HEY EVERYONE!
I just wanted to make a couple exciting announcements. I will have a fun crafty project for you later as I will be making my son's birthday invites today!
But I just wanted to say I WON A SWEET AWARD! Jessica from
Craft Corners
contacted me and offered me this sweet bloggy award! Isn't it cute!! Have you ever checked out
Craft Corners
?? They have so great projects! I spent at least an hour there the other night checking everything out! It is pretty amazing so if you have the chance please stop by and check it out. I wanted to thank all my "followers" because without you I would not have a blog and have made such wonderful friends. And thank you to Jessica and Craft Corners for this very nice honor.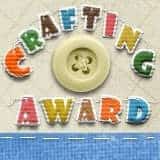 The other thing I wanted to mention was I have been picked to stay on the Getting Cricky Design team for another term. I am very excited. I love the Design Team and have made some amazing friends being apart of this great team. I will my sisters who will not be returning and would like to welcome the new members.
If you have the chance please check out the new Design Team If you click on their names it will take you to their blog. Please leave them some bloggie love you have the time.
The Fall 2012 Getting Cricky Design Team is
Returning members
Lisa
Amy
Shawn
Jessie
Patty
And the new members
Amanda
Larelyn
Lynn
Rhonda
Again if you have the chance to visit and follow their blogs I am sure they would love it!
Thanks again for being such amazing friends and followers :)
Lots of Love,
Heather