Hello my wonderful bloggie friends!!! I am so happy you could join us for this month's Getting Cricky Design Team Blog Hop!! I am UBBER (yeah that is right I said ubber :)) excited to be doing my first blog hop as a Getting Cricky Junior Design Team member! This hop is going to feature 10 of the new Junior Design Team girls (if you have not meet all the new girls be sure to check out my Getting Cricky page and check them out! Or you can find us all on Kristal's page as well! They are a set of AMAZINGLY talent girls and I highly recommend following all of their blogs) along with Kristal and all the amazing Senior Design Team members! Each of us, along with our
Special Guest - Ellen from "a little bit of this..."
, are so pleased to have you here with us!! Throughout the hop, you'll see NEW ideas for creating cards and projects with Kristal's stamps sets!!
If you've hopped along from
Christel from One Scrappin Sista
at then you are in the right place!! If you are just joining me from your dashboard, or reading this via email, please be sure to
CLICK HERE
to start at the beginning with
Kristal's blog
(you'll want to catch up on all the FUN!!)...
Now you may have heard me mention Kristal's stamps a time or two but here is a little more information! Each of Kristal's stamp sets benefit charity. At least $1 per stamp set goes to benefit the charity noted on the stamp set package. Kristal is donating to the following charities: Cancer Angels, Storefront Shelter for Homeless Children, Intrepid & Fallen Heroes, E. Glaser Pediatric AIDS Foundation, Doorways Shelter for Women & Children (Domestic Violence), Wayside House for Women, Camp Good Days & Special Times, Adopt a Classroom, and Autism Research Institute. Kristal will donate $1 for every stamp set sold, retail or wholesale to the charity noted; and over time believes this will add up to some wonderful miracles for these special people. So you can feel good that each time you purchase a K Andrew Designs art stamp set, someone around the country is receiving some good help!
K Andrew's stamps are all made and assembled here in the USA, which is very important to Kristal. This ensures all product materials are safe and that jobs are being provided and maintained here in America. You can learn even more about Kristal's stamps (and pick some up for yourself) by visiting her online store:
K Andrew Designs
:
Kristal's stamp sets are perfect for cards, layouts, and so much more... Here is THE BEST NEWS OF THE NIGHT/DAY (depending on when you read this) Kristal is offering 20% off all orders this weekend! (Nov18 - Nov 20) STOCK UP NOW! This is an amazing offer!!! They make great gifts for the crafters in your life (you know like me, please feel free to check my wish list!) SO
GO HERE
Now and ORDER ORDER ORDER...Enter Promo code cricky20 .... WAIT I WAS WRONG.... check out my cards and then go order order order! ;)
For my project, I'm featuring the Fashionable Friends and Food for Thought stamp sets
For this hop I have made two different cards
Ms. Snowomen loves to shop! But who doesn't at this time of year right? I love buy gifts for all my nieces and nephews! LOVE TO SHOP... as Kristal's stamp says... "Shopping is my therapy!"
The snowman was made from Christmas Cheer Cricut cartridge as were the bags and ornament. I used a little gold glitter glue to dazzle the ornament up a bit. The ribbon was from Walmart as was the back drop paper. The stamp as I said was from the K. Andrew Fashionable Friend stamp set. I love the fashionable friends set. I have used it for sooo many different projects.
Santa is "The Original Red Hatter" my friends! Red Hatter is also a stamp from Fashionable Friends. I printed "The Original" portion off of my computer. Santa is made from the Christmas Cheer Cartridge as is his nice list. The alot of nice at the top of the list is from Food for Thought Stamp Set... see you can just put a ton of these stamps sets together and the projects are ENDLESS!!! :)
Okay Now what you have all been waiting for!! I will be offering Blog Candy.... Tonight's blog candy is a necklace lanyard and
Itty B
itty Buttons to go with! What is this you ask? Well my very talented friend Julie makes these adorable buttons that you can attach to a lanyard... best part is you can mix them up. She makes a ton of different styles and you have one for everyday of the week/month or for the mood you are in! They are loads of fun. I will be sending you a couple of scrappy ones (shh... these designs are no longer available but I have an in with the owner!) Check out her wears at
Say Cheese Design
. I am sure you will love them as much as I do! You have until Sunday November 27 to enter! I will pick a winner and announce it here on my blog Monday November 28... So be sure to stop back and see if you are my lucky winner!!! How do you enter? Well leave me some bloggie love of course! Leave a comment if you would like to become a follow I would LOVE LOVE LOVE it but it is not required!
DO NOT FORGET ABOUT THE AMAZING DEAL ON STAMPS THIS WEEKEND!!! Be sure to hop over and order lots! Holidays are coming up and they make amazing gifts... just sayin! ;)
Thank you so much for stopping on by!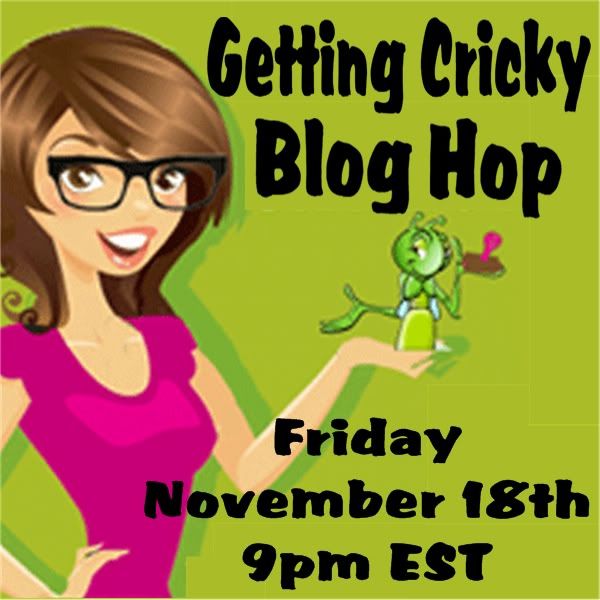 ........................................