Welcome to the "Snow Much Fun" Getting Cricky Blog Hop!!
Scrappy Holidays my bloggie friends! We're so excited you could join us for this month's Getting Cricky Design Team Blog Hop!! In addition to Kristal and the Senior Design Team, we look forward to introducing you to the rest of the NEW Junior Design Team (be sure to visit Kristal's Blog to see ALL of our "new additions"!!)... Each of us, along with our
Special Guest - Patty from "Creative Diva"
, are so pleased to have you here with us!! Throughout the hop, you'll see NEW ideas for creating cards and projects with Kristal's stamps sets!!
If you've hopped along from the scraptabulous
Laura at Lady B Crafts
then you are in the right place!! If you are just joining me from your dashboard, or reading this via email, please be sure to
CLICK HERE
to start at the beginning with
Kristal's blog
(you'll want to catch up on all the FUN!!)...
You all know I LOVE LOVE LOVE my
K. Andrew Design Stamp Sets
!!! They are amazing quality, they have the best sayings, they are extremely versatile and are so darn adorable! But did you know each of Kristal's stamp sets benefit charity? It is true! At least $1 per stamp set goes to benefit the charity noted on the stamp set package. Kristal is donating to the following charities: Cancer Angels, Storefront Shelter for Homeless Children, Intrepid & Fallen Heroes, E. Glaser Pediatric AIDS Foundation, Doorways Shelter for Women & Children (Domestic Violence), Wayside House for Women, Camp Good Days & Special Times, Adopt a Classroom, and Autism Research Institute. Kristal will donate $1 for every stamp set sold, retail or wholesale to the charity noted; and over time believes this will add up to some wonderful miracles for these special people. So you can feel good that each time you purchase a K Andrew Designs art stamp set, someone around the country is receiving some good help! See not only are the stamps amazing but the maker of the stamps has the biggest heart! All the more reason to scoot over to
K. Andrew Design
and buy yourself or someone on your Holiday shopping list some amazing stamps!
K Andrew's stamps are all made and assembled here in the USA, which is very important to Kristal. This ensures all product materials are safe and that jobs are being provided and maintained here in America. You can learn even more about Kristal's stamps (and pick some up for yourself) by visiting her online store:
K Andrew Designs
:
Kristal's stamp sets are perfect for cards, layouts, and so much more...
For my project, I'm featuring the fabulous Winter Wishes Stamp set! I bought this set last month and have tons of fun creating with it! LOVE IT :) I had been eyeing it up since it came out and finally bought it! LOVE LOVE LOVE IT! Did I mention that I love it!?!? ;) Here is what it looks like...
Winter Wishes
Soooo many options right? I have had lots of fun just playing around and making cards!
I used this stamp set to make my Christmas card which is my first ever shaker card! WHAT WAS I THINKING? You know I have over 60 people on my Christmas card list? Nuts and then I decide to try something new! I am a weee bit crazy. I have to admit I had a ton of fun making it though! Only problem... who would have thought by December 16 in Wisconsin we would not have any snow!!! I wanted a picture of my kids playing in the snow for this but NO LUCK!!!
But here is how my card turned out...
For this card I of course used my Winter Wishes stamp set which is where the words Winter Wonderland and the snowflakes came from. I used an embossing glitter to give it a little bit of dimension (I have not done embossing in FOREVER so I am pretty happy with the way it turned out). I used my Christmas Cheer Cricut Cartridge to make the snow globe at 3 1/2 inches. Inside is a picture of my fabulous little monkeys and some glitter so when you shake it up you get this...
It is like actually having a snow globe right? Although it was loads of fun I think I shall pick an easier project for next years cards ;)
On the inside I simply stamped Merry Christmas (again using the Winter Wishes stamp set) and will sign the card love my family:)
Okay so that was my main project but I had to share this card with you again.. I shared it on an earlier post but thought I would pass it along again because it turned out pretty darn cute...
I love the little elf and Snow much Fun is the reason for the Blog Hop right? So I had to pass it along! If you have a chance after you are done hopping you can stop back and visit my earlier post with this Elf and other fun ways to use Winter Wishes. (The elf was from Close to My Heart Happy Pursuits)
SO WHO WANTS CANDY?!?!? I will be offering blog candy but I have to be honest with you and tell you it will not ship until the last week of December or the first week in January! My friend Julie owns this amazing company called
Say Cheese Design
. She makes the most adorable buttons, wine stops, magnets, post cards... I could go on but please visit her site! I am going to give the Blog Hop Winner a retractable key ring and a couple of her adorable magnets to go with it. The reason I am not sending right away is Julie had a little fire in her shop and is not sending out at this moment... The good news I will be going to see her the end of December and can pick some up directly from her. So I will send them to you as soon as I can. You have until December 24 to enter. How do you enter? Just leave me some bloggie love and of course I would love if you would follow my blog but it is not required. On the 25 I will pick a winner using random.org.
This is what your prize package will look like but because I am shipping after the Holidays I will get you some everyday scrappy magnets!
Well I hope you enjoyed my cards! Now it is time for you to head off to the next amazing Design Team member!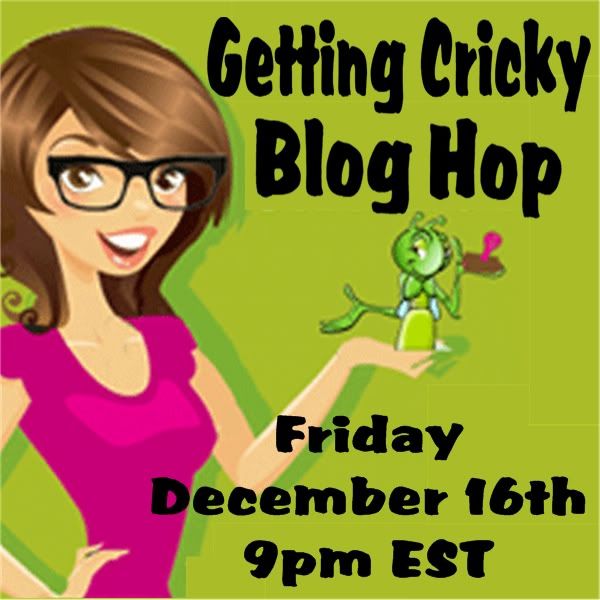 ........................................